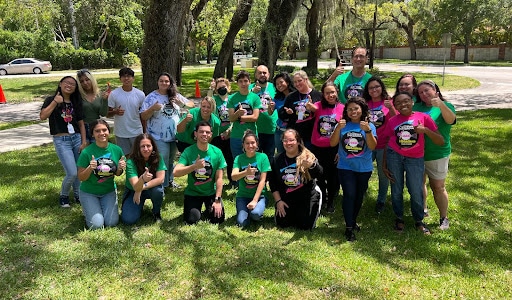 Let's move with the music! This summer we'll be learning how movement can improve musical understanding. This year, we will be including the acclaimed curriculum from the Weill Music Institute of Carnegie Hall. Click here to learn more about Link Up: The Orchestra Moves. With multiple camps, we cater to all ages and levels. Each camp will have field trip opportunities such as performances and workshops. Scholarships available. All abilities are welcome.
Our beginning camp typically lasts the month of July (4-weeks) located in the Homestead area. Campers are ages K-8. 
Beginner/Intermediate Camp
Our intermediate camp runs mid June – end of July typically located in the Kendall/South Miami area. This camp serves a wide range of student experience. Campers are ages K-12.
6-week – Beginner / Intermediate Camp
This camp is a two week intensive program which caters to older, more advanced students ages 6-12. The intensive camp starts the last week of June. We offer a Band and String track which includes master classes, improvisation, conducting, theory, and guest speakers.
2- week – Intensive Camps (Students must have teacher recommendation)
Complete the online form or send your registrations to:
Email to katherineam@gmys.org 
OR Mail to: 
GMYS
5275 Sunset Drive
Miami, FL 33143
These are summer camp example schedules from 2022 and are subject to change:
GMYS offers low-cost tuition for all of our summer camps. For those who do not qualify, payment plans are available and flexible to your needs. There are also scholarships available for our intermediate summer camps! Student scholarships are also available on a first come first serve basis. To receive a scholarship, you must provide proof of need with the following: most recent tax return, notice of termination/furlough, documentation of unemployment, and/or any other proof of need. Qualifying families will receive up to one scholarship.
Payment plans are available.
Beginning/Intermediate/Advanced Strings & Band
Beginning/Intermediate
Strings only

*All fees are inclusive of the complete duration of camp*
What does the cost include?
Our camps include guest speakers/artists, field trips, master classes, and t-shirts. The beginner and intermediate camps also include lunch and a snack. We also offer before and after care at these camps at an extra cost of $25/week due at the start of each week. Before Care begins at 7:30 AM. After Care ends at 6:00 PM. Our camps offer large ensemble classes as well as smaller class sizes for focused instrumental electives which means that students will have a balance of individualized attention as well as the benefits of ensemble playing. Students will spend about four hours on their instruments and supplement their time with meaningful electives to enrich their musical learning experience.
Summer Camp Faculty Biographies coming soon!
We also have TWO two-week Intensive camps for advanced musicians (Strings & Band). This camp is perfect for players with 4+ years of experience and must list teacher for recommendation. Grades 6-12 ONLY.